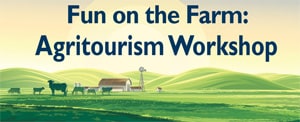 Since June 2016 you need to have a valid API key enabled to display Google maps, see plugin settings
5:30pm - 8:30pm
LOCATION: Dakota County Extension and Conservation Center
WEBSITE: www.health.state.mn.us/diseases/animal/tour/index.html
4100 220th St. W, Farmington, MN 55024
Do you own a farm with animals that also hosts farm tours for families and school groups, has a pumpkin patch or apple orchard, or other similar activities where the public can mingle with your animals?
If so, you are participating in Agritourism!
The Minnesota Department of Health (MDH) and the Minnesota Department of Agriculture (MDA) have developed FREE agritourism workshops to explore human and environmental health issues at agritourism events and operations, including apple orchards, pumpkin patches, and working farms that host the public.
Topics include:
best practices for human-animal contact
working farm safety issues
food licensing and safe food handling.
Owners, employees, and youth volunteers are encouraged to attend!
Space is limited.  Boxed dinner provided for registered attendees.