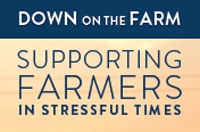 Since June 2016 you need to have a valid API key enabled to display Google maps, see plugin settings
LOCATION: Ridgewater College, Rm A-240, Bldg A
WEBSITE: mdadownonthefarm.eventbrite.com
2101 15th Ave NW, Willmar, MN 56201
COST: FREE
TWO TIME OPTIONS
9:00 am - 12:00 pm
1:30 pm - 4:30 pm
Stress factors are on the rise for Minnesota farmers. Many face financial problems, price and marketing uncertainties, farm transfer issues, production challenges, and more. You may know farmers who are struggling with stress, anxiety, depression, burnout, feelings of indecision, or suicidal thoughts.
Maybe you want to help, but aren't sure what to say or do. Or maybe you find yourself having to deliver difficult news to farmers. This 3-hour workshop will help you recognize and respond when you suspect a farmer or farm family member might need help.
WHO SHOULD ATTEND?
Anyone who interacts with farmers on a regular basis, including county, state and federal agency staff, veterinarians, bankers, crop consultants, clergy, farm organization staff and board members, social service workers, nurses and other medical professionals, farm management and high school ag instructors, extension staff, and others.