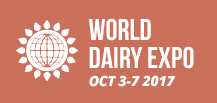 Since June 2016 you need to have a valid API key enabled to display Google maps, see plugin settings
8:30am - 2:00pm
LOCATION: Mendota 4 Ballroom, Alliant Energy Center Exhibition Hall
WEBSITE: www.worlddairyexpo.com
1919 Alliant Energy Center Way, Madison, WI 53713
World Dairy Expo
The University of Wisconsin-River Falls Center for Dairy Farm Safety will conduct the third annual Dairy Farm Safety Symposium at the World Dairy Expo in Madison, Wisconsin on October 5, 2017.  The symposium is a series of workshops addressing topics related to dairy farm safety and will feature interactive sessions led by national experts designed to assist dairy farm owners, managers and families in making dairy operations a safe place to work and live. 
Symposium admission is free.
DOWNLOAD A PDF OF THE SYMPOSIUM POSTER
---
Jeff Bender, DVM, Co-Director of UMASH, will be co-presenting a workshop on safe animal handling at the symposium.
Stress Less with Good Stockmanship: Reducing Worker Injuries
11 am - Noon

Best practices overview of safe animal handling for dairy farm owners and managers.

Presenters:
Dr. Jeff Bender, Co-Director, Upper Midwest Agricultural Safety and Health Center (UMASH) and Emily Wilmes, Extension Educator-Livestock, University of Minnesota Extension