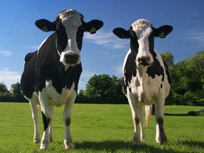 9:30am - 12:15pm
Cost: Free
Schedule:
9:30 a.m.
Welcome
9:40-10:10 a.m.
"Updates of Avenues of Mastitis Prevention: Bedding Management and Selective Dry Cow Therapy"
Sandra Godden, DVM, UMN, College of Veterinary Medicine
10:20-10:50 a.m.
"Strategies to Improve Heifer Raising Costs"
Jud Heinrichs, Professor of Dairy Science, Penn State.
11:00-11:45 a.m.
"What we know today: Ag Dairy Market and Policy Update"
Christopher Allen Wolf, Professor of Agriculture Economics, Cornell University
12:00 p.m.
Thank-you, Final remarks, Evaluation