12:00pm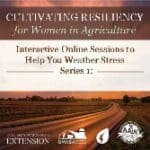 With the current difficulties in agriculture and a particularly difficult harvest season, many are concerned about their friends and loved ones.
Feelings of depression, hopelessness, and frustration are common as well as increased substance use and other negative coping strategies. It is critical that everyone have a basic understanding of suicide prevention as a way to support those around you. This webinar "An Introduction to Suicide Prevention" will cover:
1. The scope of the problem
2. Identifying individuals at risk and how to help
3. How to respond when a suicide does occur
About our presenter: Monica Kramer McConkey, LPC has 25 years of experience in the behavioral health field as a child and adolescent counselor, program supervisor, and administrator. Monica grew up on a farm in Northwest Minnesota and has an intimate understanding of the dynamics that contribute to farm stress and its impact on farm families. Monica is very much in touch with the agricultural way of life.