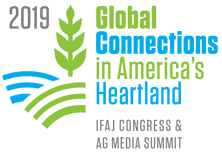 Since June 2016 you need to have a valid API key enabled to display Google maps, see plugin settings
LOCATION: Doubletree by Hilton - Bloomington, Mpls South
WEBSITE: agmediasummit.com
7800 Normandale Blvd, Minneapolis, MN 55439
International Federation of Agricultural Journalists (IFAJ)
The largest gathering of agriculture's top writers, editors, photographers, publishers and communication specialists in the U.S.
This industry-wide gathering of agricultural communicators offers one of the best opportunities for professional improvement and industry networking. The InfoExpo (trade show) annually exceeds 75 booths and provides the best place to promote your company or organization's products and services.
This year we will host the International Federation of Agricultural Journalists (IFAJ) Annual Congress and join the AAEA The Agricultural Communicators Network, Livestock Publications Council and the Connectiv Agri-Media Committee. With the addition of IFAJ, more than 700 media and communications professionals are expected to attend.