UMASH periodically holds Twitter chats about various farm safety and health topics. Below, you will find directions for accessing Twitter chats, upcoming chats, and saved conversations. Interested in a particular topic? Message or email us at umash@umn.edu, and check out our Twitter page!
How do I join a Twitter chat?
Each Twitter chat has a hashtag, which we will share on Twitter prior to the event. Search the hashtag, and click on Latest.
Introduce yourself
Start by responding to a question, then asking your own. Always use A1/A2/A3 + the hashtag in your tweets. Here's an example.
Upcoming Twitter Chats
Growing Rural Health: Focus on Farmers
National Rural Health Day (NRHD) recognizes that rural communities experience unique healthcare challenges. Agricultural communities, including BIPOC producers, agricultural workers, and Tribal communities, experience their own set of challenges. A week before NRHD, UMASH is hosting a #RuralFarmHealth Twitter chat. The focus will be the health challenges faced by rural agricultural communities and what we can do to address them. Anyone can attend, including residents of agricultural communities, organizations, and healthcare providers.
What health challenges and concerns do agricultural communities face?
What challenges do rural agricultural communities experience in accessing healthcare?
What are creative ways to address the health challenges agricultural communities experience?
How has farm life changed during the COVID-19 pandemic?
How has access to broadband affected your daily agricultural practices?
What can we do to support agricultural workers in light of COVID-19?
Why is it important to make farm safety and health inclusive, diverse, and equitable?
Where do you see gaps in resources to support healthy agricultural communities?
What have we not covered yet? What questions do you still have?
Saved Twitter Chats
#UMASHExpo Twitter Chat
Eighteen people and organizations participated in the Twitter chat. The key theme of community ran throughout the conversation. Participants noted that farm incidents extend beyond the injured person, affecting healthcare personnel, family, and visitors. Communities all have an important role in reducing the spread of COVID-19. Participants discussed anxieties about respirator shortages, following proper precautions, the effect of the pandemic on farmworkers, and finding childcare. With work-life balance so difficult right now, this has implications on the mental health of communities. A participant noted the need for research to include rural communities. Another explained that it's difficult to study farm safety when not all injuries are reported and such data isn't widely available. Fortunately, farm safety can be incorporated in many ways, such as having nutritionists talk about zoonoses. The Twitter chat ended on a high note: There are many resources and organizations promoting farm safety.
---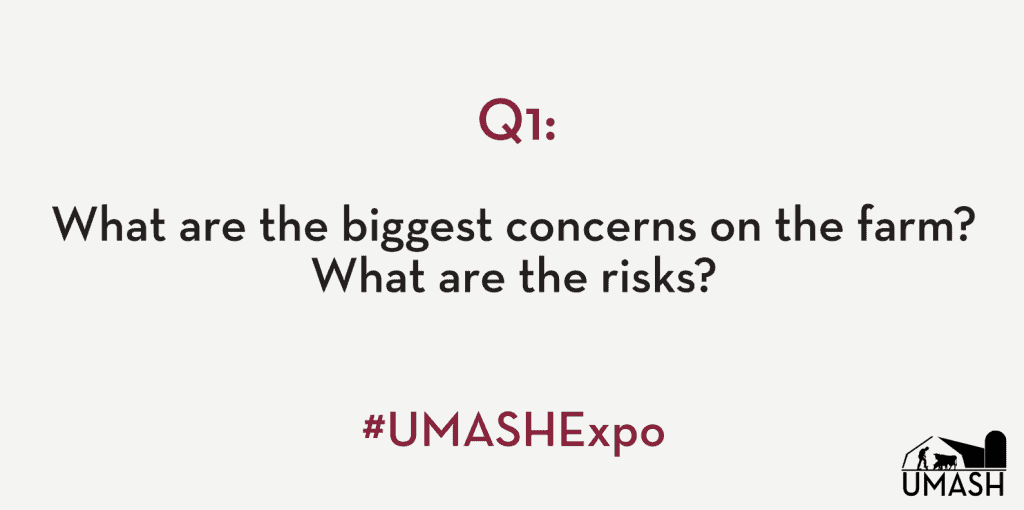 A1: According to the WI Farm Fatality Report, roadway deaths accounted for 29% of all farm fatalities. https://marshfieldresearch.org/nfmc/wi-farm-related-fatality-reports… #UMASHEXPO
A1: Transportation incidents are the leading cause of death, but many hazards exist on the farm, & not just to workers but also to visitors, family members, EMS personnel, & other healthcare workers responding to accidents. #UMASHExpo @UMASHcenter
#A1: Although the rate of non-fatal injuries to children in agriculture has dropped by 60 percent since the National Children's Center was established in 1997, agriculture remains hazardous for children and youth. https://cultivatesafety.org/parent-first-farmer-second/… #UMASHExpo
A1: Safety and health at ranches and dairies is a big concern in our region! Animal handling, zoonotic disease, bending and lifting, and use of heavy machinery are some of the health and safety concerns. #UMASHExpo
A1 – finances, balancing the costs of operations, farm transition, low commodity prices, and the next (6th) generation on our farm.
A1: Children and youth on farms and in the worksite are one of the biggest concerns. A child dies in an agricultural-related incident about every 3 days! #UMASHExpo
A1: Grain bins, there's a lot out-of-condition grain that can be dangerous to work around, especially when alone #UMASHExpo @UMASHcenter
A1 – ATVs, tractors, equipment, and the presence of young children in the worksite. These are my top worries, in terms of farm safety. We expect to see more injuries and more exposure on the farm, as schools remain closed (or virtual) into 2021 #UMASHExpo @UMASHcenter
A1 again – https://wcax.com/content/news/UVM-Medical-Center-calls-number-of-ATV-injuries-this-year-alarming-571700541.html…#UMASHExpo @UMASHcenter
A1: The most common hazard with grain bins is engulfment. The primary causes are moisture and grain removal. Moisture can cause the grain to stick together and form a crust or bridge at the top surface of the grain. https://go.usa.gov/xfGvF #UMASHExpo #TwitterChat
A1: Tractor roll overs and run overs are a big risk on farms. #UMASHExpo
A1 – New reports show 41 WI ag-related deaths in 2017 & 34 in 2018. Large % was from public road collisions. Follow all state lighting and marking requirements for older equipment & federal regulations for newer machinery. https://bit.ly/fatreprelease #UMASHExpo @UMASHcenter
Top Critical Risks on farms could be:
Vehicle rollover/runover
Entanglement
Electrocution
Hazardous substances
Handling livestock
Fall from heights
Drowning
Confined space entry
---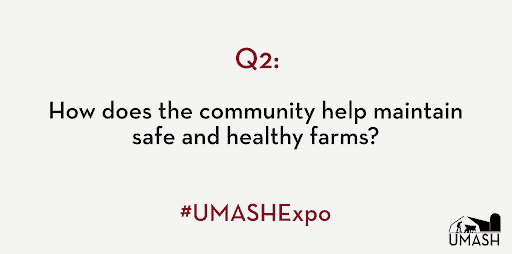 ---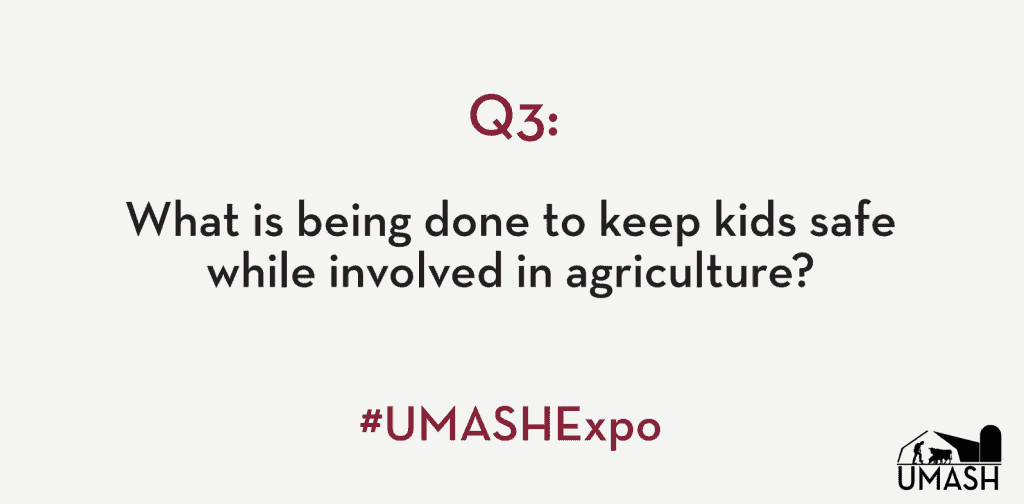 ---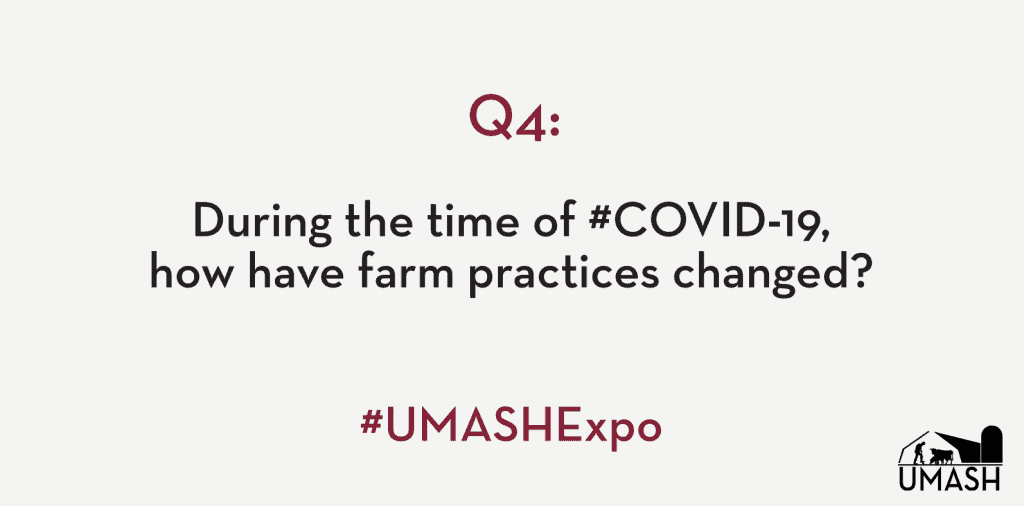 ---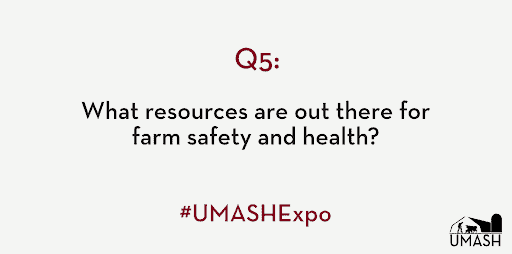 ---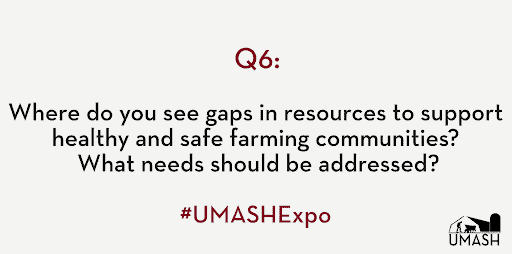 ---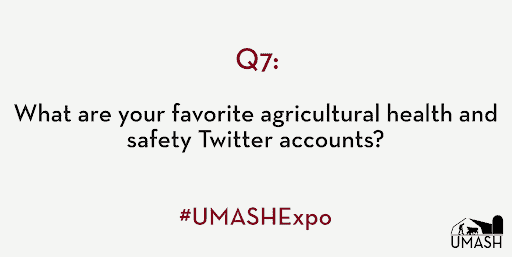 ---
No specific question
Long hours, isolating work, unexpected weather, and fluctuating prices make agricultural work a stressful job. It is important we let farmers know that there are resources and people waiting to help, especially in these difficult and uncertain times. #farmstress #UMASHExpo