UMASH Wellness Pavillion
Living Healthy, Farming Safely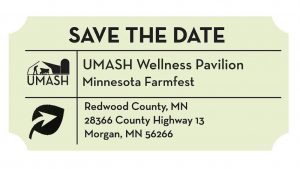 Agriculture ranks among the most hazardous industries
according to the National Institute for Occupational Safety and Health. Farmers are at very high risk for fatal and nonfatal injuries; and farming is one of the few industries in which family members (who often share the work and live on the premises) are also at risk for fatal and nonfatal injuries.
The UMASH Wellness Pavillion is a fun and engaging way to get the attendees of Minnesota Farmfest excited about Living Healthy, Farming Safely. The goal is to promote safety, health, and injury prevention with safety and health resources for farmers, farmworkers, and families. UMASH brings health and safety partners together to offer live ag safety and rescue demonstrations, ag health and safety exhibitors, hands-on activities, and more!
We want you to be safe, healthy and injury free.
Exhibit areas will feature:
Giveaways including sunblock, prescription deactivation kits, and more from Minnesota Farm Bureau Foundation
Personal protective equipment giveaways
Experts and resources in respiratory protection, grain bin health and safety, mental health, ATV and UTV, youth farm safety, and more
SPONSORED BY

---
Watch our video – We're UMASH
UMASH is focused on workers, families, employees and the safety of farmers by using a One Health approach. Our goal is to improve research, education and prevention to help those in agriculture remain safe and healthy on the job. We bring together investigators, partners, researchers, practitioners to identify trends in injuries before they become widespread.
RELATED NEWS