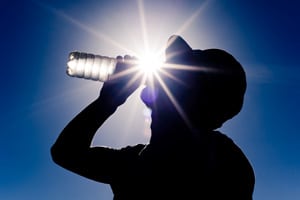 JULY 2017
Farming is a profession where much of the work occurs outside and because of that farm workers can be exposed to extreme temperatures. Summer heat and humidity are vigorous weather conditions farm workers must face.
To protect themselves, farm workers should be prepared, educated, and take the proper safety precautions to prevent heat related illnesses.
SAFETY CHECKLIST
The checklist below lists a few ways you can be prepared and prevent heat related illness:
Have all farm workers had training to prevent, recognize and treat heat related illness?
Is there a plan for adjusting work schedules to ensure workers have sufficient breaks to prevent over-exerting themselves?
Is there access to shade or cool resting locations?
Is there a plan in place to have water readily available for the workers?
Are workers being encouraged to drink one cup of water every fifteen to twenty minutes?

Can workers explain their location if they need to seek medical attention?

Are workers being acclimatized? In other words, are workers gradually increasing their exposure time in hot environmental conditions over a 7-14 day period?
Are workers encouraged to watch out for one another for heat related illness symptoms?
You and/or your employee(s) can download and print a pdf checklist to complete safety checks on your farm.  Keep the completed forms for follow-up, future reference and inspections.
DOWNLOAD PDF CHECKLIST
Disclaimer: The facts and information listed above are suggestions for your safety, but are in no way a comprehensive and exhaustive list of all actions needed to insure your safety.