FEBRUARY 2017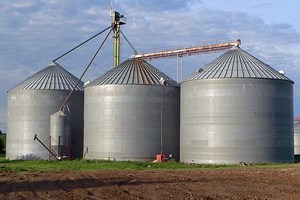 Grain handling is a high-hazard activity, where workers face serious injury and death. Youth should not be in grain bins or silos or in/around flat storage structures unless they are empty, proper lock-out/tag-out and other safety procedures are followed, and the youth is at least 16 years old.
Have you taken the proper steps to ensure the safety of grain bins/silo entry on your farm?
SAFETY CHECKLIST
The checklist below lists a few common hazards you can look for and fix to keep your workers and family safe.
Has all mechanical and electrical energy been locked out? Pneumatic equipment locked out

?

Is there potential for combustible gas, vapors or toxic agents? If yes, has it been tested

?

Is there potential for the grain to be waist high? If so, has a method(s) been identified to protect workers from the engulfment hazard

?

If a worker enters, is an observer in communication

?

Is the observer trained and able to initiate rescue

?

Is rescue equipment provided and specifically suited for entry?

Are there dust masks or respirators available?
You and/or your employee(s) can download and print a pdf checklist to complete safety checks on your farm.  Keep the completed forms for follow-up, future reference and inspections.
DOWNLOAD PDF CHECKLIST
Disclaimer: The facts and information listed above are suggestions for your safety, but are in no way a comprehensive and exhaustive list of all actions needed to insure your safety.