OCTOBER 2017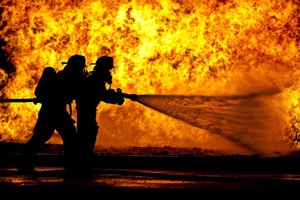 During National Fire Prevention Week, take some extra steps to ensure the safety of your family and employees, and protect your livelihood. Fire risks are high in rural areas with first responders and resources further distances away, so let Farm Safety Check help.
What's really at stake when it comes to fire safety on your farm?
SAFETY CHECKLIST
The checklist below lists a few ways you can be prepared in case of a farm emergency:
Is wiring free of damage and unexposed? Have you inspected recently?
Are exits clearly marked with cleared pathways?
Have workers received proper training for emergencies? Are regular fire drills conducted?
Are electrical outlets, electrical panels, fans, and lights clean and free of debris?
Is machinery maintained and free of combustible materials and buildup?
Is smoking restricted to designated areas only?
Is there a class ABC fire extinguisher in all buildings?
Are there fully functioning smoke detectors and/or sprinklers located inside livestock buildings and buildings with flammable material?
Are flammable liquids, like fuel and oil, stored away from sources of heat and livestock in ventilated areas?
Are heat lamps securely placed, clean, and in good repair?
You and/or your employee(s) can download and print a pdf checklist to complete safety checks on your farm.  Keep the completed forms for follow-up, future reference and inspections.
DOWNLOAD PDF CHECKLIST
Disclaimer: The facts and information listed above are suggestions for your safety, but are in no way a comprehensive and exhaustive list of all actions needed to ensure your safety.
---