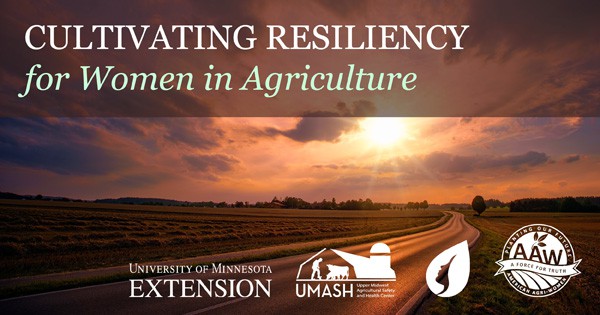 Raising awareness of farm stress is important, but offering some tools to help whether the stress is critical. This interactive online series was designed to help women in agriculture cultivate resiliency by focusing on what they can control in these challenging times and connect them with resources and information that can help them weather stress.
The recorded sessions are 60-90 minutes in length and include a topic for discussion followed by an interactive Q & A period.
SESSIONS ARE FREE BUT REQUIRE ONLINE PRE-REGISTRATION
Register for upcoming sessions or view recordings of past sessions below.
You must register to view the recordings.
---
Weathering Stress in Agriculture 2021 Questionnaire
The purpose of this questionnaire is to collect data to learn more about resiliency to stress and women in agriculture. The information you provide to us will be useful in helping inform continued online programming for the Cultivating Resiliency series and developing new resources to help women in agriculture.
The link that follows will lead to an anonymous online questionnaire. We anticipate that it will take you less than 10 minutes to complete this survey. There is no ability to track information back to participants. Anyone over the age of 18 is welcome to participate.
Please feel free to share the link with anyone that may have an interest: farmer, rancher or other agriculturalist.
CLICK HERE TO TAKE  THE SURVEY
---
UPCOMING WEBINARS:
Check Back Soon!
RECORDED WEBINARS:
PRESENTERS