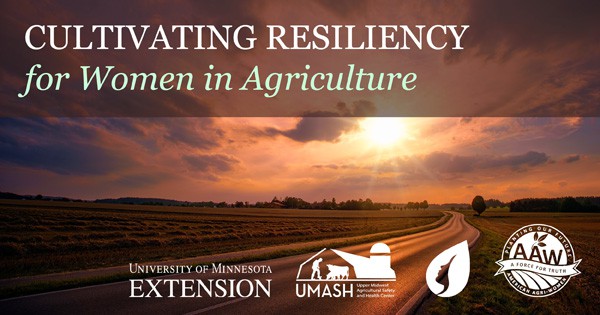 Cultivating Resiliency for Women in Agriculture Webinars
Raising awareness of farm stress is important, but offering some tools to help weather the stress is critical. This interactive online series was designed to help women in agriculture cultivate resiliency by focusing on what they can control in these challenging times and connect them with resources and information that can help them weather stress.
The recorded sessions are 60-90 minutes in length and include a topic for discussion followed by an interactive Q & A period.
SESSIONS ARE FREE BUT REQUIRE ONLINE PRE-REGISTRATION
Register for upcoming sessions or view recordings of past sessions below.
You must register to view the recordings.
UPCOMING AND RECORDED WEBINARS
June 16, 2022, 12:00 PM
Mindfulness, Mediation, and Self-Compassion Exercises for Women in Agriculture – To Use Anywhere, Anytime!
This session will focus on stress-reducing practices to help build your resiliency. Participants will engage in brief exercises and activities that can be replicated in their farming and ranching lives. Dr. Brenda Mack, the webinar facilitator, was born and raised in a farming family in the Red River Valley, MN, and is married to a fourth-generation crop farmer. She uses these exercises on a regular basis and encourages you to add them to your self-care toolbox.
The Cultivating Resiliency Collaboration uses an online platform where session participants remain anonymous as they participate in the session. Participants cannot see each other and cannot view each other's names. Nor are participant images or names recorded.
About our facilitator: Dr. Brenda Mack is a behavioral health and human services consultant, trainer and presenter, and an Assistant Professor in the Social Work Department at Bemidji State University (BSU). Brenda is a Licensed Independent Clinical Social Worker through the Minnesota Board of Social Work. Brenda grew up on a farm and currently lives on a farm with her farming family. Brenda completed her Doctor of Social Work at the University of St. Thomas in the spring of 2020.
Please note that you must register to view recorded webinars.
Past Webinars:
PRESENTERS