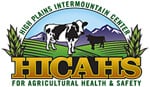 The HICAHS Pilot Grants program funds innovative research projects that promote worker health and safety in the agriculture, forestry, or fishing industries. Extra consideration is given to projects that directly impact the HICAHS region which includes Colorado, Montana, Utah, Wyoming, North Dakota, and South Dakota.
Projects in this cycle will be funded at a level up to $25,000 for a ~10 month project duration (including 8% indirect costs), with an estimated project start date of October 1-15, 2018.
Application deadline is July 30, 2018.
The goals of the HICAHS Pilot/Feasibility Project program are:
Develop new and creative research (basic, applied, translational) related to human health and safety in agriculture and forestry within the HICAHS Region (Colorado, Montana, North Dakota, South Dakota, Utah, and Wyoming);
Build research capacity related to human health and safety in agriculture and forestry;
Foster new, collaborative partnerships among the HICAHS researchers, private industry, and regional and federal government agencies with stakeholder interests in human health and safety in agriculture and forestry.
WHO SHOULD APPLY:
HICAHS encourages applications from student investigators or any investigator who is new to the field of agricultural and forestry occupational health and safety research. Eligible pilot research project investigators are:
Junior investigators;
Graduate research trainees, occupational medicine residents, or postdoctoral fellows;
Faculty members of any rank who are new to the field;
Staff from health departments/state agencies and public health institutions;
Previous engagement/history with HICAHS is not required.
Investigators from minority and underrepresented populations are strongly encouraged to apply.
READ THE FULL RFP